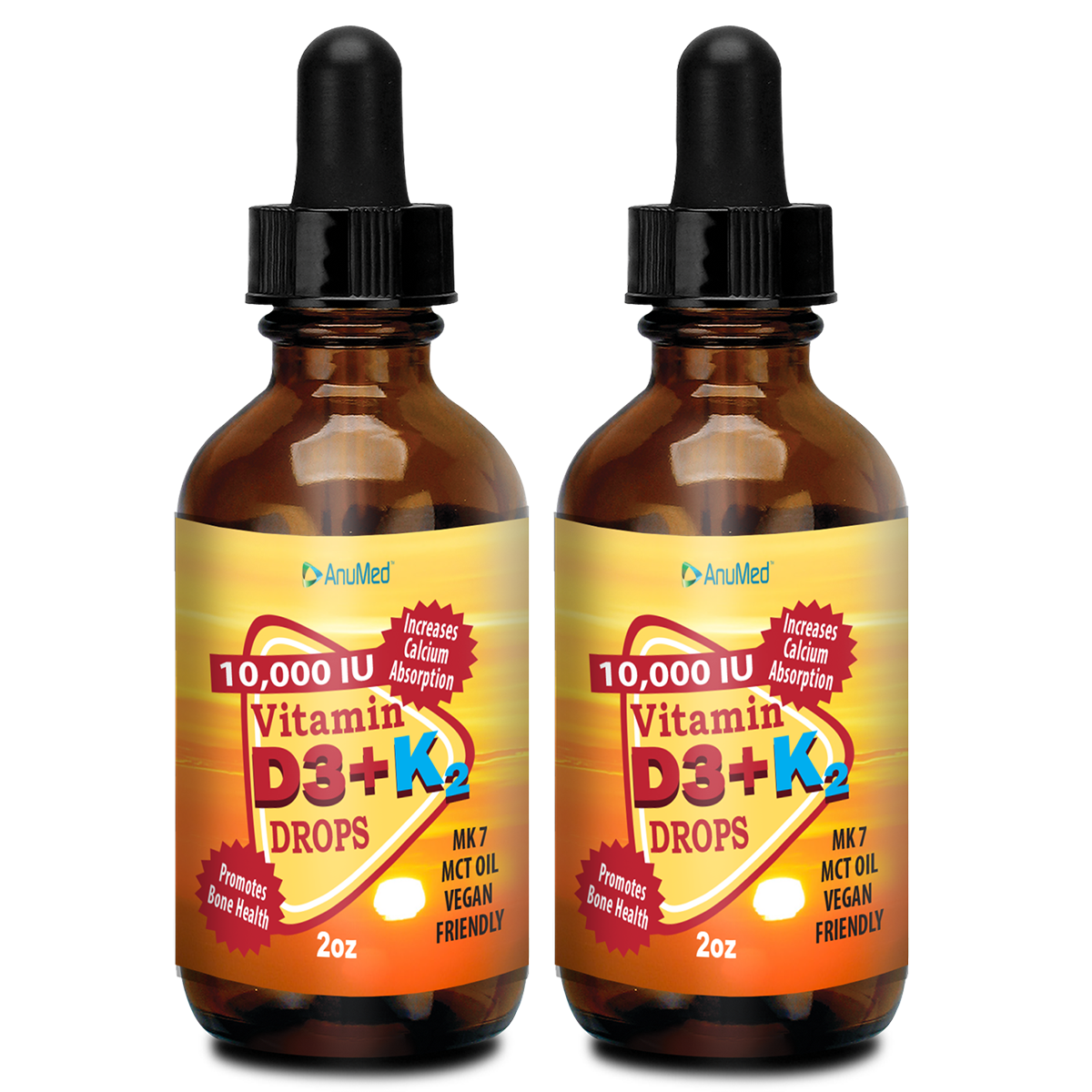 2 pack - 2oz ANUMED Vitamin D3 + K2 10,000 IU Liquid Drops - 20% OFF use code: vitmainDday20%
Short description
ANUMED ONLY DELIVER THE MOST POWERFUL NATURAL INGREDIENTS. Our Products are 100% Natural, Non-GMO, Gluten Free, No Sugar Added, and Made In the USA.
Share
GET 20% OFF USE CODE: vitaminDday20%
Some settling my occur. Make sure to shake well before use. 
2oz Vitamin D3 + K2 5,000 IU Liquid Drops + Organic MCT Oil, Vitamin A (Retinol) 1250mcg, K2 (MK4,MK7). Promotes Heart, Bones, Immune System. 100% Vegan, Non-GMO, Gluten-Free, No Sugar Added
✔ Essential Vitamin for Bone Health, Muscle Function, Joint Support, Respiratory, Cardiovascular
✔ Immune System Booster, Supports Body's Defense System, Energy Booster, Mood, Brain & Mental Health
✔ The Most Effective D3+k2 Liquid | Premium Ingredients, Plant-Based, Organic, NON-GMO, Gluten-Free
✔ The Best Formulated for Women, Men, Children, Infants. Third-Party Tested for Purity & Potency

Fight Vitamin Deficiency with Vitamin D3 - Essential in activating our immune defenses helping it to fight off serious infection in the body. Also, Vitamin D3 is an essential nutrient that is in charge of promoting calcium absorption for various bodily processes. In its natural state, vitamin D3 can be found in very few foods unless it is added or consumed as a supplement.

The vitamin also becomes available to the body, however, when it is activated and synthesized by the ultraviolet rays of the sun. Since the sun plays a key role in triggering vitamin D3 in the body, it has become a common health complication for people all over the world. Vitamin D3 deficiency is now recognized as a pandemic as 30-100% of the population is deficient in Vitamin D3, not due to dietary choice but instead due to spending less time in the sun due to concerns of sun's rays on skin.
People who live in Northern areas of the world have less exposure to the rays of the sun due to the angle in which the sun hits the earth. 

Also, individuals residing in Southern areas of the world tend to experience more heat; therefore, they avoid the sun and lack the proper sun exposure to activate the vitamin in their dermis. If the body does not have sufficient vitamin D3, the body can experience a variety of health complications such as debilitated bones, rickets, osteomalacia, osteoporosis, and other symptoms caused by general vitamin D3 deficiency.

Vitamin K2 is naturally available through foods and supplements. The purpose of the vitamin is to support the body's bone and heart health. More specifically, vitamin K aids with bone mineralization, blood clotting, calcium moderation, and many more health benefits.
Our superior formulation offers 10,000 IU of Vitamin D3 per dropper and is also available in the following forms:
Oil Free Vitamin D3 Cream 10,000 IU
Travel Size Vitamin D3 10,000 IU
Vitamin D3 + K2 5,000 IU Cream
Vegan Vitamin D3 K2 60ct Capsules
Vegan Vitamin D3K2 5,000 IU Drops
Above article is for educational purposes only.
Suggested Use: 1 dropper full daily or as directed by a physician.
Warnings: Vitamin D3 is generally considered safe as your body will absorb what it needs. Though unlikely with a vitamin D3 in cream form, a high dosage of vitamin D3 dietary supplements may lead to toxicity. Please consult with a healthcare professional before making a significant increase in your dosage.

These statements have not been evaluated by the Food & Drug Administration. This product is not intended to diagnose treat, cure or prevent any disease.(Container size or shape subject to change.)