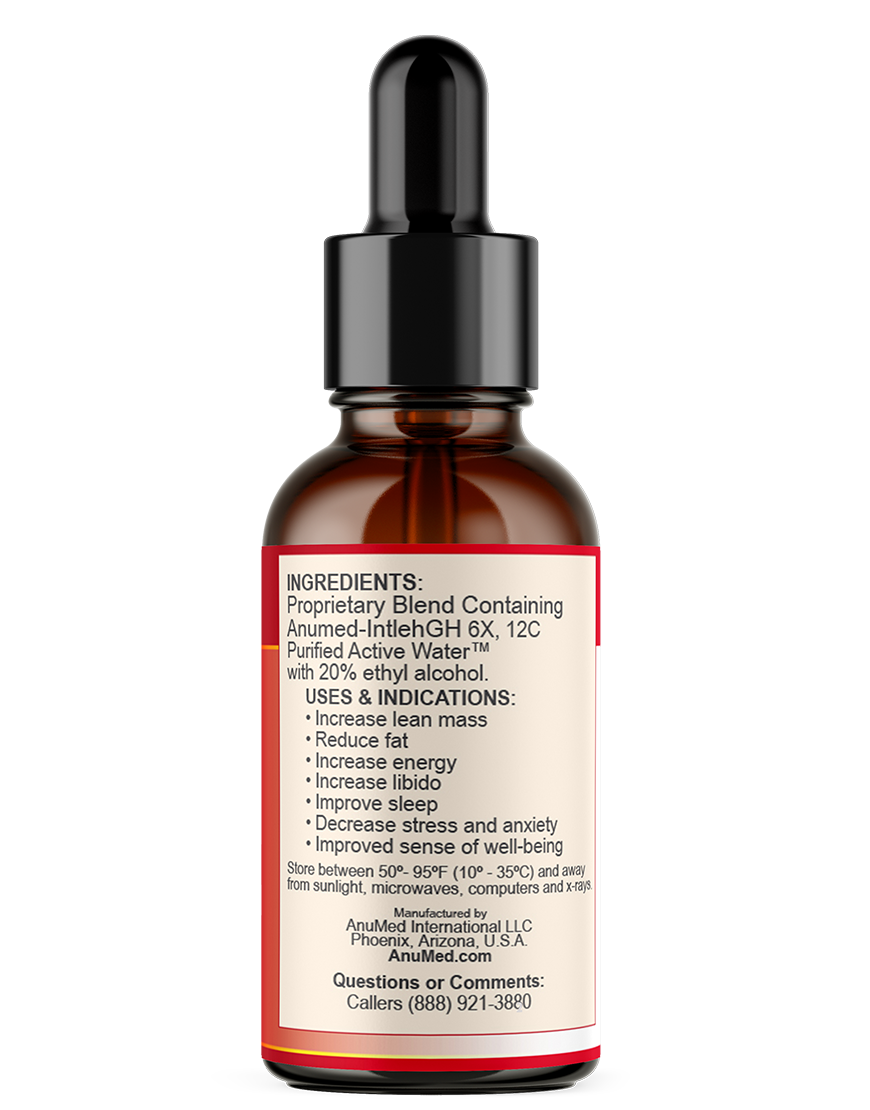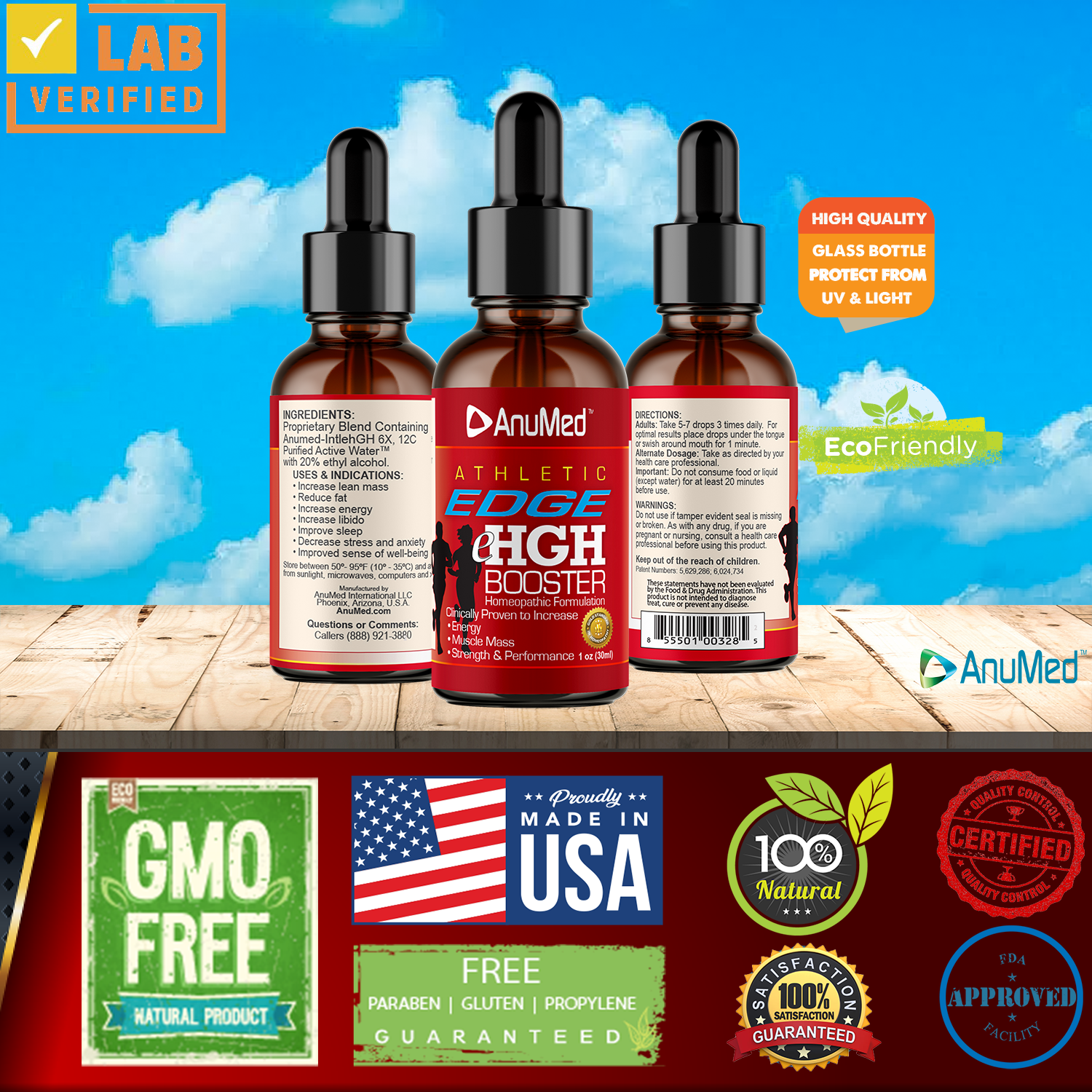 Athletic Edge Booster
Short description
ANUMED ONLY DELIVER THE MOST POWERFUL NATURAL INGREDIENTS. Our Products are 100% Natural, Non-GMO, Gluten Free, No Sugar Added, and Made In the USA.
Share
Product Description
The Fat Loss, Muscle Mass, and Energy Booster
Over time, our bodies may begin to plateau and slow down with regards to energy levels, metabolism, and overall growth. Between the daily events of your lifestyle, your resistance can begin to lack and take a toll on your productivity and mood. In particular, Fitness enthusiasts may find themselves experiencing stagnation as their muscle mass and weight management does not result in continuous improvement.
Athletic Edge Booster provides a solution to these limitations!
The Athletic Edge Booster was specially formulated with nutritious, patented ingredients that aim to increase lean muscle mass, improve performance, reduce fat, and increase vitality by boosting the activity of your cell functions.
Effective and Patented Ingredients
The Athletic Edge Booster consists of rich, patented ingredients that maximize cell performance.
One of the key compounds is our patented eHGH compound. This ingredient is a protein that stimulates change at a cellular level. Because of the stimulus, your cells improved functionality will progressively increase your body's energy and muscles mass capacity.
Another essential component to the patented Athletic Edge Booster formula is our purified active water with 20% ethyl alcohol. This solution provides a solid foundation for our patented eHGH to thrive and provide your body maximum results.
Athletic Edge Booster is Clinically Proven to Work
Researchers in the state of California gathered more than 40 studies on the effects of compounds with the same properties as eHGH on athletic individuals. Considering 303 participants with an average of 27 years, the review demonstrated that the participants who received the compound experienced growth in lean body mass as opposed to those who did not receive it.
Furthermore, an additional review focused on individuals in late adulthood and assessed the impact compound can have on their bodies. In culmination, the 31 studies evaluated 220 individuals who used compound and 227 who did not. In turn, participants who received the compound experienced a variety of positive results from lean body mass to body fat shedding.
The Benefits of the Athletics Edge Booster Solution:
Increase in Lean Muscle Mass
Our patented eHGH specializes in stimulating the functions of the body's cells. As a result, this benefits the development of lean muscle mass since it promotes growth as well as a swift muscle repair process to keep up with your health of daily life routine.
This special homeopathic solution is made to maximize your body's different systems, especially with regard to processes related to weight management. In order to increase fat loss, it is important to stimulate the body's lipolysis process to burn fat tissue. Evidence has shown that Athletic Edge Booster and its properties fuel the fat loss process to work more efficiently. Moreover, the formula stimulates the body's drive and muscle resistance, which helps increase fat loss while accompanied by a fitness routine.
Improvement in Body Composition
Since eHGH begins to work at a cellular level, your epidermis will also experience positive results from this special formula. Evidence has demonstrated that as an individual begins to meet their muscle mass and fat loss goals, the epidermal cells will be stimulated and produce of all the healthy processes your skin needs to look toned, youthful, and radiant.
Higher Energy and Resistance Levels
Our formula helps stimulate lipolysis, which is the bodily process that helps burn adipose tissue in order to create energy. Therefore, the use of Athletic Edge Booster will help you sustain high levels of drive and, in turn, increasing your body's resistance.
Higher Sense of Well-Being
Athletic Edge Booster has also demonstrated to improve the overall well-being and stability of an individual. Those who receive this formula have experienced an increase in the quality of their sleeping patterns; as a result, this resulted in minimized fatigue and more vitality to take on the day with strength. Additional benefits include an increase in libido as well as a decrease in stress and anxiety.
Above article is for educational purposes only.
Suggested Use:
The best method to take this homeopathic liquid is by taking low doses, frequently. Take 5 to 7 drops by placing them under the tongue or by swishing around the mouth for 1 minute. Please repeat this process 3 times a day before your meals. An alternative dosage would be to use this product as directed by your healthcare provider. For maximum absorption and results, avoid consuming food and beverages 20 minutes before use.
Warnings:
Do not use if the tamper-evident seal is missing or broken. Please consult with a healthcare professional before using this product. If any discomfort appears, discontinue use and contact your physician immediately. If you are pregnant or nursing, do not use this product.
These statements have not been evaluated by the Food & Drug Administration. This product is not intended to diagnose treat, cure, or prevent any disease.