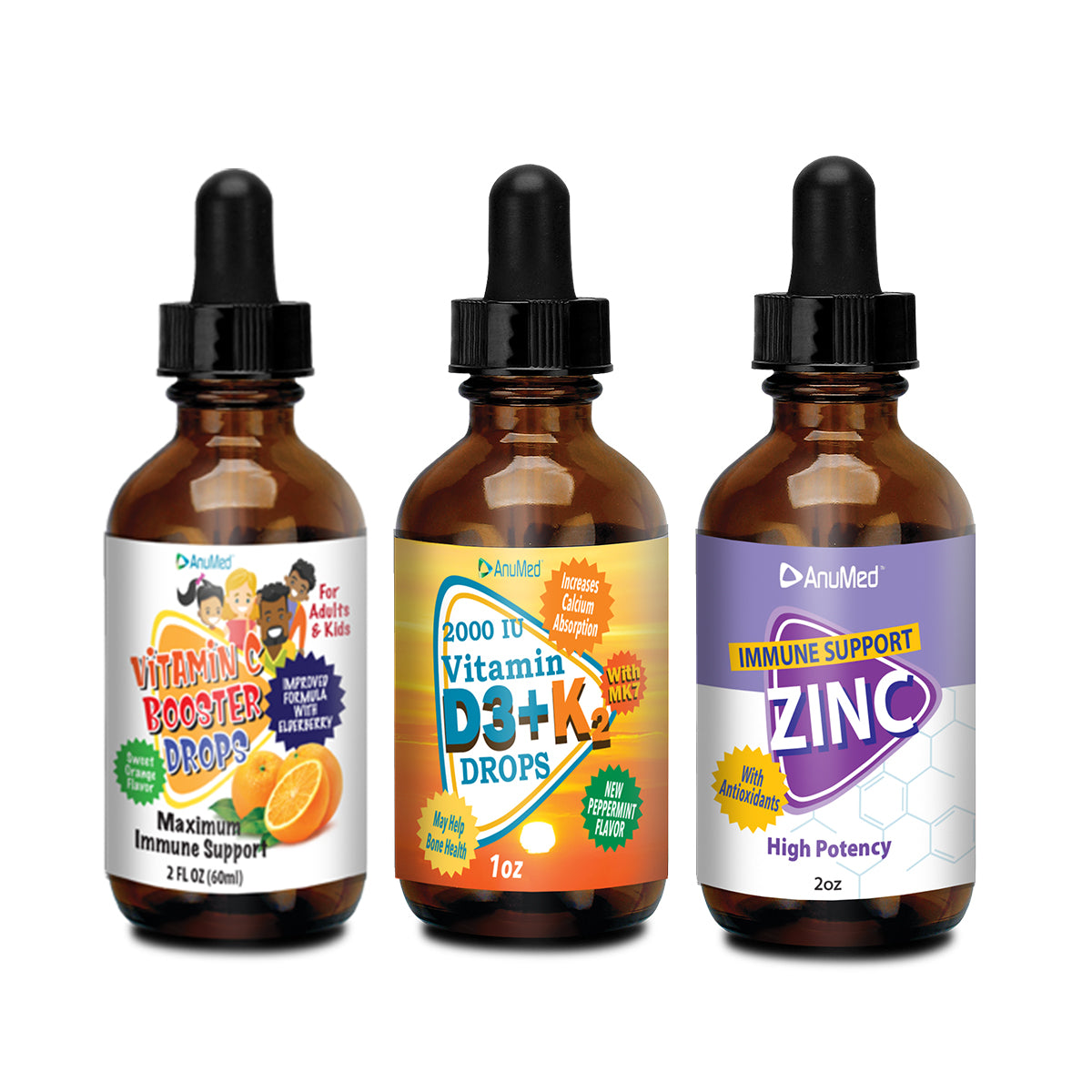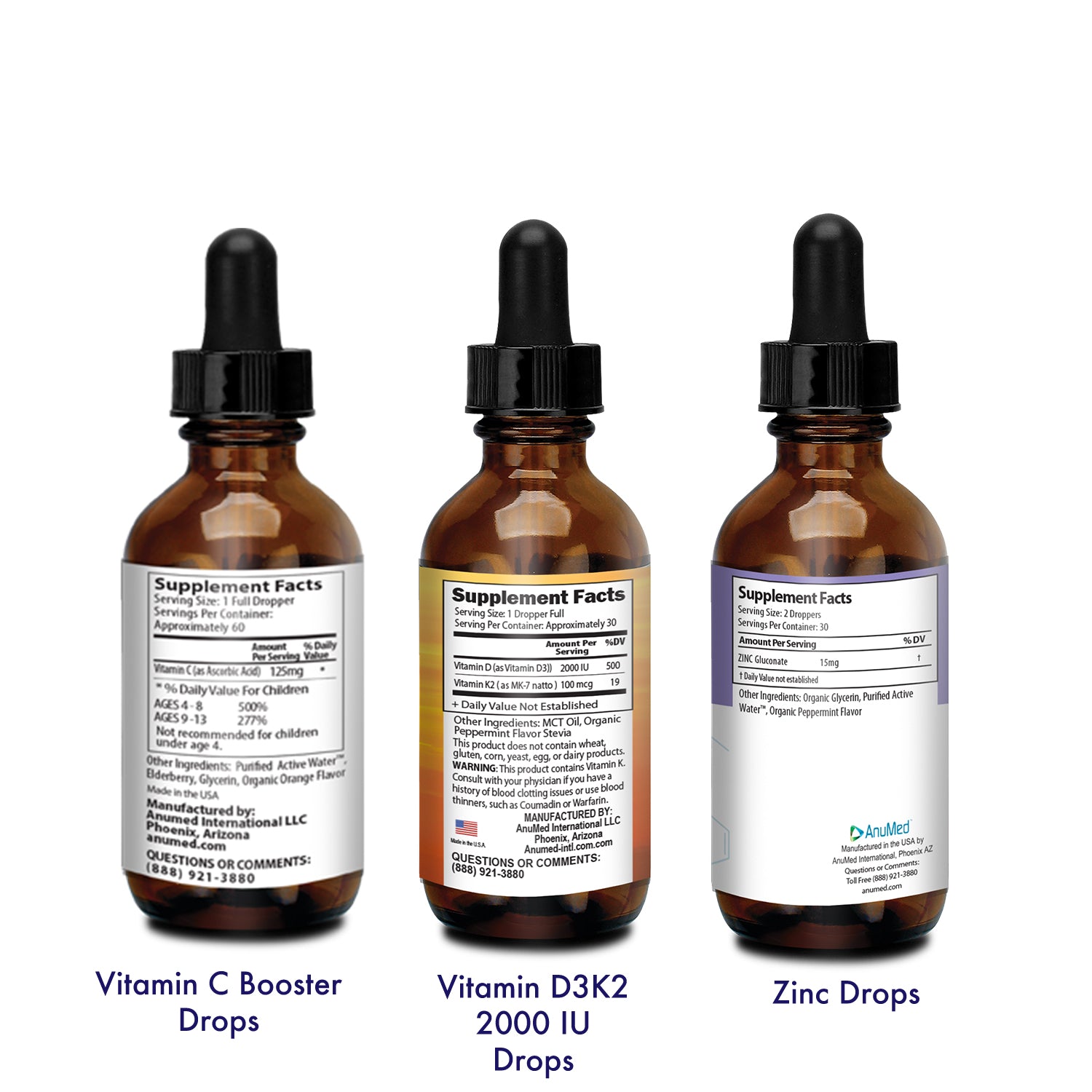 Immune Support Bundle - Vitamin C Drops, Zinc Drops & D3K2 Drops all-in-one | Help Fight Colds & Infections | Help keep the body stronger
Short description
ANUMED ONLY DELIVER THE MOST POWERFUL NATURAL INGREDIENTS. Our Products are 100% Natural, Non-GMO, Gluten Free, No Sugar Added, and Made In the USA.
Share
BUNDLE SPECIAL - 3 of OUR BEST IMMUNE SUPPORT PRODUCTS
Vitamin C Booster Drops for FAMILY,
ZINC DROPS,
& D3+K2 DROPS
All three aid in boosting immune system to protect from disease such as COVID 19, common colds, Viruses and more. 
Family Vitamin C Booster Drops for Adults & Children

So Yummy! Kids will ask for more! Adults like it too! Consult with physician for correct dosage for your child. 

With Back-to-School it is important to boost your kids immune system.! Be prepared for fighting illness and germs. Can help kids stay healthy and support immune system. Great tasting Orange Flavor. 
Adults could be exposed to germs from the many places they go and from where their kids go to such as school. It is very important for adults to keep their immune system boosted . 
Also supporting:

Bone Health
Muscles
Healing
Suggested Use:
1 dropper is approximately 125mg. Before administering aways consult with Physician to determine safe dose for children. Adult supervision is required.
Zinc Gluconate Drops - 15MG PREMIUM QUALITY | 100% PURE EXTRACT 

✔ 100% Pure & All Natural Zinc extract
✔ Maximum Strength Formula for Healthy Immune System
✔ Ultimate Defense from Cold, Flu, Virus, Allergy
✔ Essential for growth : Tissue Repair, Brain, Memory, Mood 
✔ Rich with Minerals | High Antioxidants
✔ The Best Ingredients with the Highest Quality
✔ Improves : Reproductive System
✔ Deep Sleep | Joints | Skin | Hair | Eyes | Cardiovascular Health
✔ Dairy-Free | NON-GMO | ORGANIC |GLUTEN-FREE
✔ Third Party Tested
✔ 100% safety
✔ Lab Verified
✔ FULL-Satisfaction Warranty
✔ MADE IN THE USA
✔ FDA-Approved & GMP-Certified quality 
Also Supports
Healing
Metabolism
Taste & Smell
Our Vitamin D3 + K2 drops provide various benefits in addition to preventing and alleviating vitamin deficiency. Read more below.
Product Description
 D3 + K2 Drops - 2000IU per dropper
Did you know that Vitamin D absorbs calcium, but Vitamin K2 helps the body ensure that calcium is properly utilized?
Vitamin D3 is an essential nutrient that is in charge of promoting calcium absorption for various bodily processes. In its natural state, vitamin D3 can be found in very few foods unless it is added or consumed as a supplement. The vitamin also becomes available to the body, however, when it is activated and synthesized by the ultraviolet rays of the sun.
Since the sun plays a key role in triggering vitamin D3 in the body, it has become a common health complication for people all over the world. Vitamin D3 deficiency is now recognized as a pandemic as 30-100% of the population is deficient in Vitamin D3, not due to dietary choice but instead due to spending less time in the sun due to concerns of sun's rays on skin. People who live in Northern areas of the world have less exposure to the rays of the sun due to the angle in which the sun hits the earth. On the other hand, individuals residing in Southern areas of the world tend to experience more heat; therefore, they avoid the sun and lack the proper sun exposure to active the vitamin in their dermis.
If the body does not have sufficient vitamin D3, the body can experience a variety of health complications such as debilitated bones, rickets, osteomalacia, osteoporosis, and other symptoms caused by general vitamin D3 deficiency.
On the other hand, vitamin K2 is also naturally available through foods and supplements. The purpose of the vitamin is to support the body's bone and heart health. More specifically, vitamin K aids with bone mineralization, blood clotting, calcium moderation, and many more health benefits.
The Benefits of Vitamin D3 + K2 Drops:
Our Vitamin D3 + K2 drops provide various benefits in addition to preventing a vitamin deficiency.
Weight Management
Our drops can help increase your metabolism and boost your energy levels in order to help your reach your weight loss goals.
No Hard Pills to Swallow
Our Vitamin D3 offers all the conveniences drops can offer. No need for pills!
Improved Bone Health
Vitamin D3 is essential and necessary to build and sustain strong bones. The vitamin D3 helps mediate the transition of calcium into the core of the bones. As a result, the vitamin helps fortify the fibers with the bones, in turn, making them stronger. Furthermore, K2 provides additional support by maintaining bone calcium. Research studies have indicated that K2 intake can decrease bone loss among those with Osteoporosis.
Improved Sleeping Patterns
Vitamin D deficiencies have been linked by researchers to poor sleeping patterns and sleeping disorders. During a 2-year trial of vitamin D intake among 1,500 patients, most of those participants experienced better sleep by maintaining a regular consumption pattern of vitamin D3.
Supports Immune System
Research has indicated that vitamin D, while in combination with other bodily properties, plays a pivotal role in fortifying the antibacterial potency of the essential immune cells. As a result, the vitamin helps your immune system protect your body promptly.
Gluten Free, Alcohol Free
This product does not contain alcohol, wheat, gluten, corn, crustaceans, mollusks, peanut, salt, sugar, yeast, eggs, or dairy products.
Our superior formulation offers 2,000 IU of Vitamin D3 and K2 per dropper and is also available in the following forms:
Vitamin D3 Cream 10,000 IU
Oil Free Vitamin D3 Cream 10,000 IU
Travel Size Vitamin D3 10,000 IU
Vegan Vitamin D3 + K2 60ct Capsules
Vegan Vitamin D3 + K2 Cream
Above article is for educational purposes only.
Suggested Use:
As a dietary supplement, take 1 full dropper daily or as directed by physician.
Warnings:
Vitamin D3 is generally considered safe as your body will absorb what it needs. Though unlikely with a vitamin D3 in cream form, a high dosage of vitamin D3 dietary supplements may lead to toxicity. Please consult with a healthcare professional before making a significant increase in your dosage.
Pregnant or nursing mothers, children under age of 18 and individuals with known medical conditions should consult a physician before using this or any dietary supplement.
THIS PRODUCT CONTAINS VITAMIN K, CONSULT WITH YOUR PHYSICIAN IF YOU HAVE A HISTORY OF BLOOD CLOTTING ISSUES OR USE BLOOD THINNERS SUCH AS COUMADIN OR WARFARIN.
Made in USA

These statements have not been evaluated by FDA. This  product not intended to treat, cure or prevent disease.