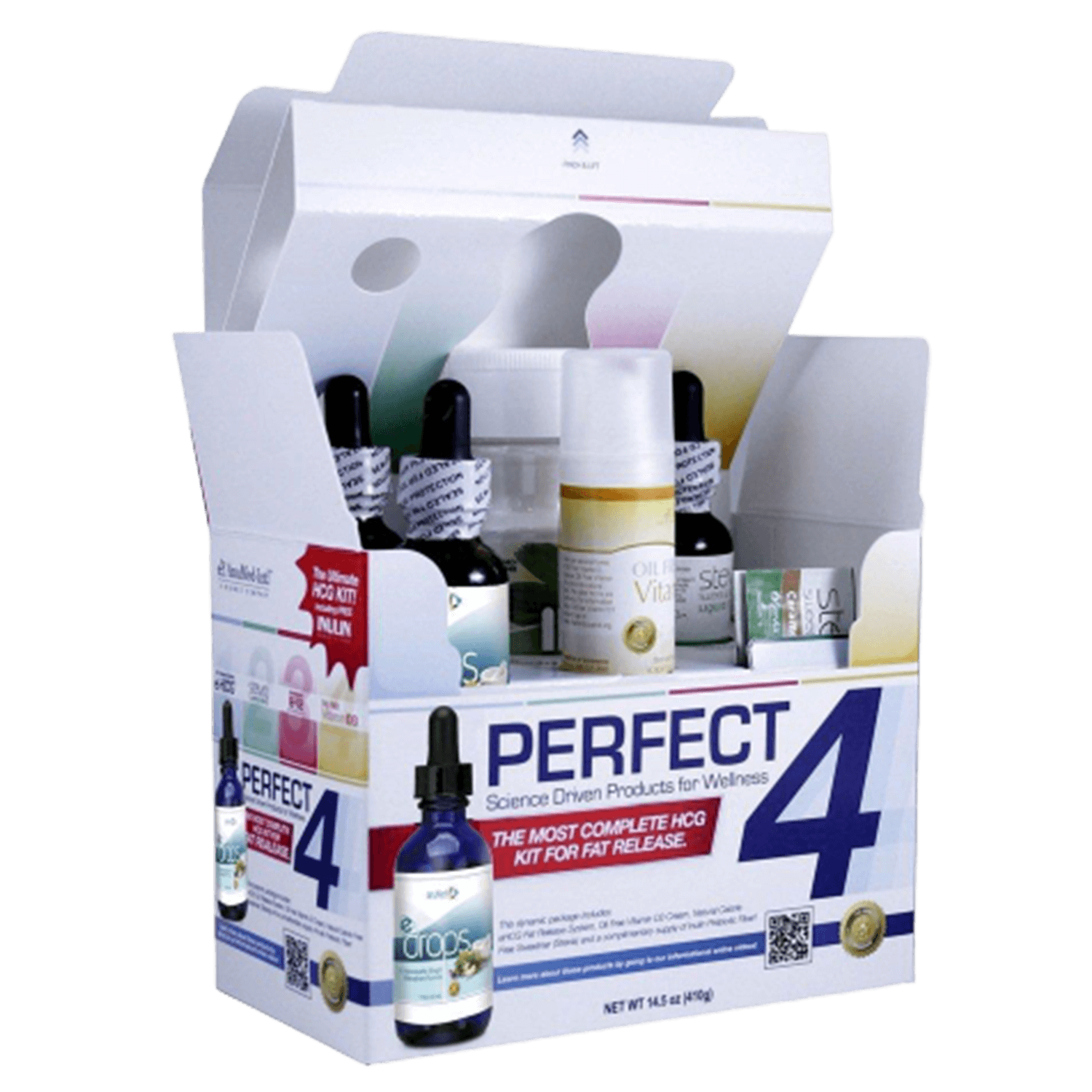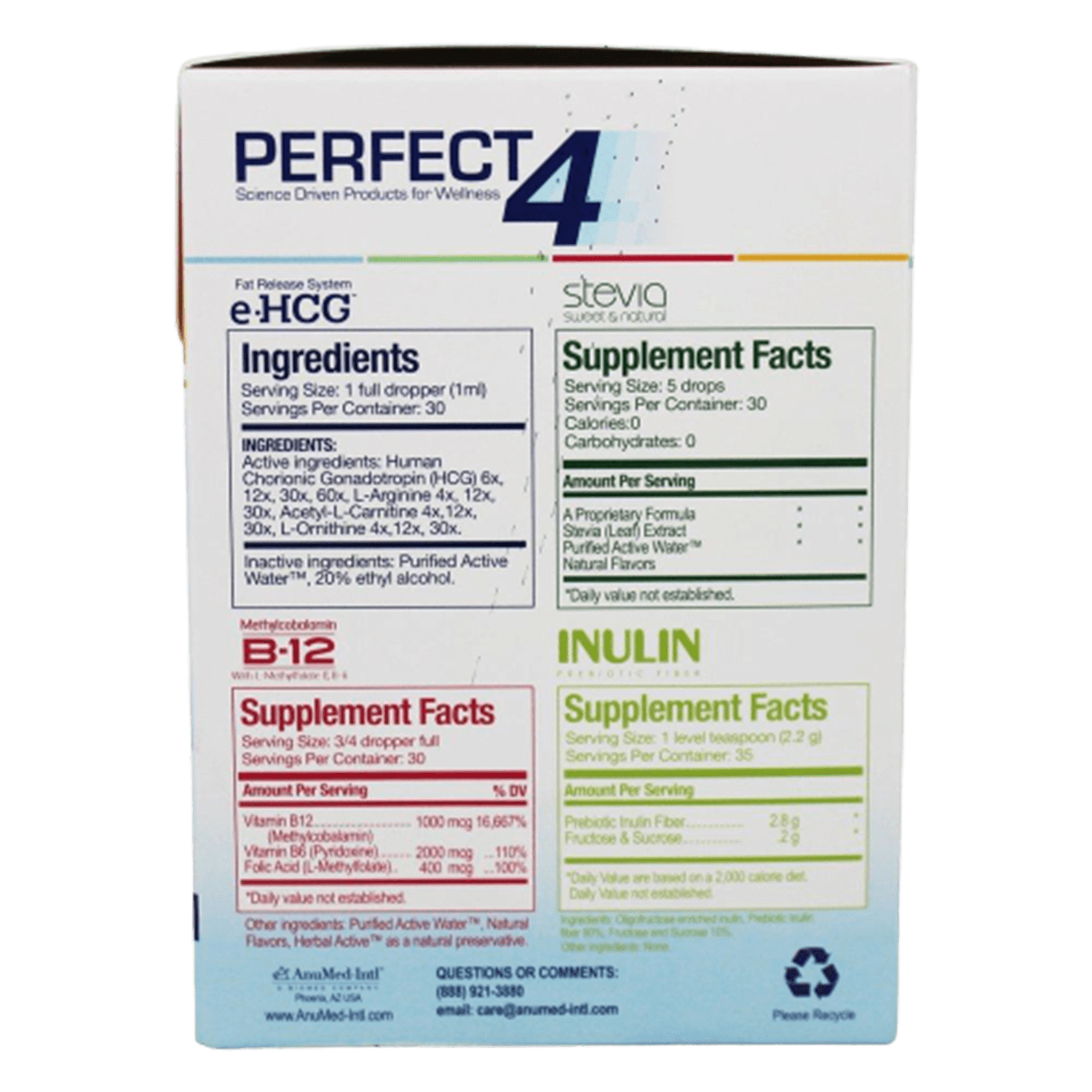 Perfect 4 Kit – 4 Weight Maintenance (FREE Inulin 2.8oz) e-Drops + Vitamin D3 + B-12 + Inulin FREE shaker
Short description
ANUMED ONLY DELIVER THE MOST POWERFUL NATURAL INGREDIENTS. Our Products are 100% Natural, Non-GMO, Gluten Free, No Sugar Added, and Made In the USA.
Share
Description
AnuMed - Perfect 4 Kit Including Free Inulin - 14.5 oz. (410 g)
The Perfect 4 Kit is a complete plan to successfully release excess fat while building a strong healthy body. AnuMed Perfect 4 Kit provides essential products that helps you along the diet. Includes E-Drops, Stevia sweetener, Vitamin B12 and D3, and even Inulin as a bonus product. Inulin will help digestion, B-12 will give you the energy you need through out the day, D3 oil free is a certified lotion for the hCG diet and stevia will keep you away from sugar!
AnuMed-International's Perfect 4 Kit is a scientifically balanced combination of homeopathic E-Drops and essential dietary supplements designed to address a wide spectrum of health aspects that set you out to manage weight safely and effectively. The Perfect 4 Kit was developed with AnuMed's commitment to scientific research in homeopathy, and as a dedicated response to the obesity epidemic facing the United States. Using this powerful combination of science-based products, AnuMed-International sincerely hopes that you will experience the progress necessary to be on your way to good health for years to come.
What you get:
1 oz OR 2oz E-Drops
1 oz Stevia Natural
1 oz B-12
1.2 oz Vitamin D3 Oil Free
45 g Inulin Shaker
E-Drops Fat Release System
AnuMed-International's kit is the best e-drop diet and is formulated to assist your body to utilize its excess fat for energy, so that you can achieve fat loss and weight management. When taken in conjunction with a very low calorie diet (VLCD), E-Drops are believed to "open" only the contents of the excess fat cells, thus allowing the body to metabolize fat for the daily calories needed. Supplementing with E-Drops may result in reshaping the body by losing pounds as well as inches.
Fat Release
May Reset Satiety Center
May Help Thyroid Function
May Improve Cholesterol Levels
May Help Elevate Mood
Protects Lean Muscle
Simply Stevia Calorie Free Sweetener
The Stevia plant is known to be the best option that nature has to offer for our culture's over consumption of refined sugar. Stevia Sweet & Natural by Stevia International is a unique blend of nature's bounty and scientific ingenuity on the part of AnuMed-International's "TASTE" team. It is diabetic friendly and has zero calories, zero carbohydrates and zero effect on the glycemic index. Enjoy a sweet taste without the negatives of sugar.
Zero Calories
Zero Carbs
Free of Petrochemicals
No Bitter After Taste
Diabetic Friendly
No Impact on the Glycemic Index
Gluten Free
Vitamin D3 Oil Free Cream
Recent clinical studies have shown that higher levels of Vitamin D3, in conjunction with a calorie-restricted diet resulted in more significant signs of weight loss. AnuMed-International has provided a Vitamin D3 Oil Free Cream that is compliant with the e-HCG protocol recommended in the AnuMed-International e-HCG Menu Book. It is recommended to not use oil based creams. 
May Help Weight Loss

Alleviates Dry Skin

2,500 IU Per Pump

Convenient Travel Size Container
Vitamin B12 Drops
B-12 and Folic Acid, when in the active methyl form, provide a very powerful combination for physical, emotional and mental energy. B-12 is necessary for proper digestion, nutrient absorption, as a carbohydrate and fat metabolism. AnuMed-International's B-12 is formulated for superior absorption in a convenient, liquid form and sweetened with their Stevia Sweet & Natural.
Sublingual

Gluten Free

Healthy Energy Boos

Naturally Flavored

Diabetic Friendly

Supports Healthy Homocysteine Levels
Inulin prebiotic fiber
Bonus Product: Inulin is a natural prebiotic fiber that helps promote digestive health by stimulating beneficial bacteria in the colon. Diets rich in fiber, such as inulin, may help maintain a feeling of fullness for longer periods after eating. Inulin is soluble in hot and cold liquids, is diabetic friendly with zero effect on blood sugar, and is the perfect choice for promoting regularity and reducing toxins while on the e-HCG protocol.
Low Calorie

Soluble Dietary Fiber

Improves Mineral Absorption

Diabetic Friendly

No Influence on Blood Glucose

Promotes a Healthy Digestive System

Supports a Healthy Immune System
Suggested Use
e-HCG:

 

Adults 5 drops 4 times per day or 3 drops 8 times per day held under the tongue. (Experiment to see what is best for you). For maximum absorption, no fluid or eating for 15 minutes.
B-12:

 

For adults take 3/4 full dropper daily or as directed by your healthcare professional. Hold under the tongue for as long as possible (30 seconds minimum) before swallowing. Shake bottle well before use.
Stevia:

 

Add 5-8 drops (or more to suit personal preference) to water, coffee, yogurt or to any other food or beverage. Stevia is a healthy alternative to sweeteners. AnuMed's Stevia is typically up to 400 times sweeter than sugar.
Inulin:

 

One teaspoon.
Vitamin D3 Oil FREE:

 

One full pump dispenses 10,000 IU of Vitamin D3. Rotate area of application each time between chest, inner arms, thighs and wrist. 
Warnings
Keep out of reach of children.
e-HCG:

 

Do not use if tamper evident seal is missing or broken. As with any drug, if you are pregnant or nursing a baby, consult a health care professional before using this product. If condition worsens, recurs or persists for more than 7 days, consult a physician.
Stevia:

 

Refrigerate after opening.
Inulin:

 

Store in a cool, dry place.
Perfect Kit.
I have been a fan of this Kit for along time. I do the HCG diet & use this combination kit ever time, and it works. I was way over weight for a 5'4 woman by 30 pounds. Since starting my protocol on Sept. 11th, I am now 27 pounds lighter, and on my way down to my target weight. This is a great kit for the value. The e-drops alone are around 79.00 dollars. You get it all in one box. I highly recommend this kit. I love the Vitamin D cream, & vitamin B12 drops. They work really well!! I'm 69 years old, and this works great for the young or old. I'll be a repeat customer. Thank you for a great product. Sincerely, M G
I love the diet - the product I have used has systematically been discontinued and as I try new products - they don't work as well and I wonder as the the purity of the product. I have used your diet plan and now your product. Thank you for still selling it - it is great!